5th edition of 'Vademecum Metabolicum', a Metabolic handbook
Nutricia today releases the 5th edition of Vademecum Metabolicum, a Metabolic handbook to help healthcare professionals diagnose and manage patients with rare metabolic diseases.
Since 1997, Nutricia has supported the availability and regular updates of the famous 'Vademecum Metabolicum', a Metabolic handbook, that was brought to life by Johannes Zschocke and Georg Hoffmann in collaboration with many experts in inherited metabolic disorders (IMDs). The goal is to constantly raise awareness for rare metabolic disorders, help to make early diagnosis and decide for the right treatment to ultimately improve the prognosis of affected infants and children.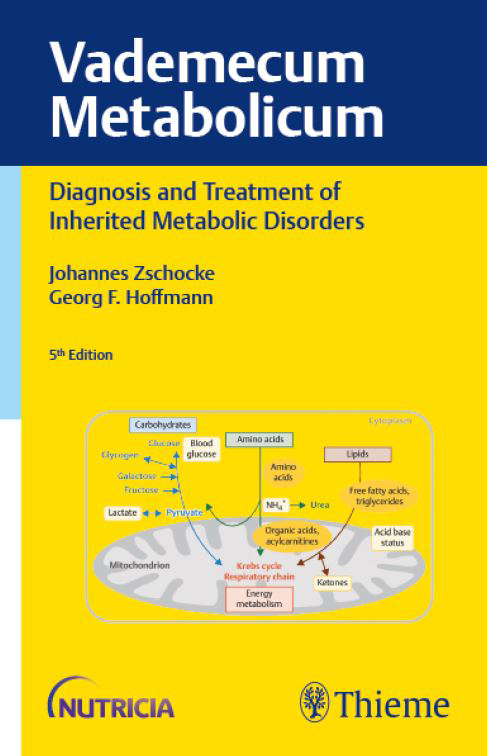 Aligned with new international classification of IMDs (ICIMD)1, this new edition includes a comprehensive list of rare metabolic diseases and provides healthcare professionals the information required to diagnose and treat patients with metabolic diseases.
How to request a hardcopy of the 5th edition of Vademecum Metabolicum handbook?
The 5th edition is now available in English. A limited number of hardcopies of the 5th edition of Vademecum Metabolicum can be requested via the following link, using code SSIEM2020. Previous editions are available in ten languages. An app with previous 3rd edition is also available on the Apple store.
Request a hardcopy
Why is the rapid and targeted diagnosis of patients with rare metabolic diseases important?
There are over 750 inherited metabolic disorders (IMDs)1 also called Inborn Errors of Metabolism with new metabolic diseases discovered each year1. Rapid and targeted diagnosis is crucial for prognosis and management of the conditions. It is essential that healthcare professionals are well-informed about rare metabolic diseases so they can best manage the condition and ensure best possible outcomes.
IMDs are a group of rare disorders caused by genetic defects that affect the body's ability to break down nutrients in food. IMDs are inherited, most often via both parents and some of them are detected shortly after birth by newborn screening. Newborn screening is intended as a public health program to identify infants with treatable conditions before they present clinically or suffer irreversible damage.
The number of diseases screened for with newborn screening ranges in the EU from 0 - 402, depending on the country where a baby is born3. So, many infants with an IMD still present clinically with diverse symptoms which makes it difficult for healthcare professionals to provide a diagnosis. If IMDs are not managed, they can cause a wide array of symptoms including delays in physical and mental development as well as death.
For more information on metabolics, visit Nutricia Metabolics Virtual Campus and explore a wide range of educational content including webinars, both live and pre-recorded. Real life stories and solutions to support patients with rare metabolic diseases are also available on this platform.
Check out Nutricia Metabolics Virtual Campus
References
Saudubray1 & Garcia-Cazorla ; Inborn Errors of Metabolism Overview: Pathophysiology, Manifestations, Evaluation, and Management.

Castiñeras DE, Couce ML, Marin JL, González-Lamuño D, Rocha H. [New-born screening for metabolic disorders in Spain and worldwide] An Pediatr (Barc). 2019 Aug;91(2):128.e1-128.e14