Nutricia raises awareness on World Cancer Day to improve understanding of the effects of malnutrition in cancer patients
February 4 is an important day for Nutricia to recognize World Cancer Day, a day set aside around the world for cancer awareness. With 19.2 million new cancer cases in 20201, cancer is a leading cause of death worldwide, accounting for 9.9 million deaths in 20202.
Cancer treatment can be very demanding on the body with side effects such as nausea and vomiting, and taste alterations; between 30 to 85% of people with cancer become malnourished during the course of their illness, depending on the type, location, stage of the tumor and treatment3.
Weight loss is one of the most common side-effects in people diagnosed with cancer4 affecting up to 80% of cancer patients5. While common, malnutrition is one of the lesser known challenge cancer patients need to face in the fight against cancer.
Cancer patients often ignore the effects malnutrition can have on their recovery which include complications, poorer quality life, shorter survival, reduced response to treatment, higher hospital readmission rates and a lower quality of life6. This is why, Nutricia is raising today awareness on the importance of nutrition in cancer care to improve patient outcomes.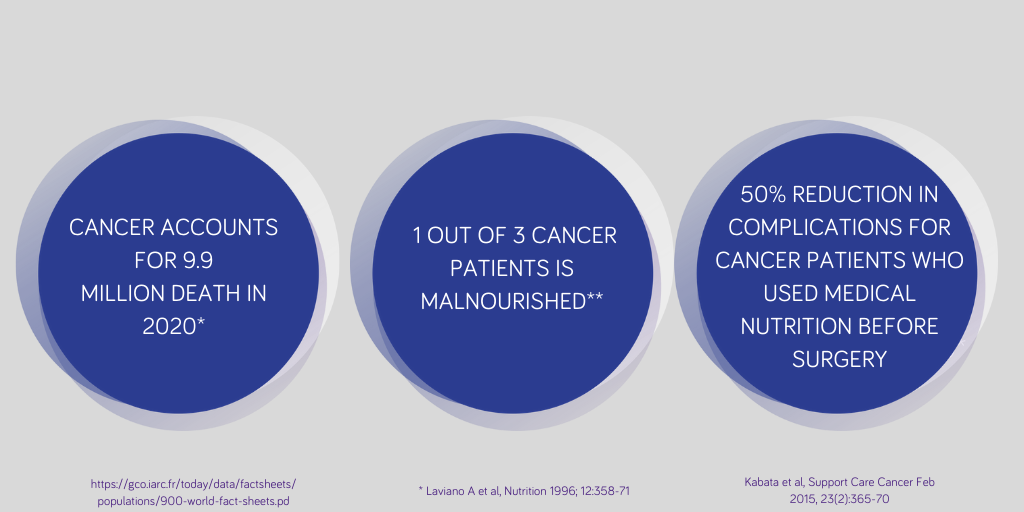 Cancer patients losing weight unintentionally should talk to their healthcare professional and may be advised to start taking medical nutrition supplements, also known as oral nutritional supplements (ONS). Medical nutrition (or ONS) are specially designed foods and drinks that help people with disease-related malnutrition meet their nutritional needs, providing the extra energy, protein and specific nutrients they need.
Medical nutrition, particularly if given to patients early in their cancer journey, has been clinically proven to reduce weight loss. Research has also shown there is a 50% reduction in complications for cancer patients who used medical nutrition before surgery7 and their hospital stay can be reduced by 2 days post-surgery8.
At Nutricia, we are committed to meeting the challenges that people living with cancer face through innovative nutritional and educational support to improve outcomes in cancer care. Every day, we support Healthcare Professionals (HCPs) in ensuring optimal nutritional care for their patients, working on dedicated innovative nutritional solutions and partnering with expert organizations across the globe to provide HCP's, patients and caregivers with educational tools.
Visit Nutricia's oncology page
References
900-world-fact-sheets.pdf (iarc.fr)
Nitenberg et al. (2000) Nutritional support of the cancer patient: issues and dilemmas. Crit Rev Oncol Hematol. 34:137-68.
Ryan et al. Proc Nutr Soc. 2016;75(2):199-211.
LavianoA et al. Nutrition 1996;12: p.358-71.
Martin, et al. J Clin Oncol, 2015.
Kabata et al, Support Care Cancer Feb 2015, 23(2):365-70
Manasek et al 2015, Ann Oncol (2015) 26 (suppl 4):iv88.