Dysphagia Screening Guidance Tool to Support HCPs in the Acute Stroke Setting
Some 15 million people suffer stroke globally each year, with up to 78% of survivors experiencing swallowing difficulty (dysphagia) within the first three days of acute stroke1. Recent clinical guidelines show the importance of early dysphagia screening and nutritional management after acute stroke, indicating the impact on patients if dysphagia and malnutrition risk are not correctly identified and managed.
Poorly managed dysphagia may lead to complications such as aspiration pneumonia, malnutrition, reduced muscle mass, and pressure injury. These can impact patient outcomes, including increased disability and mortality, reduced speed and degree of recovery, increased length of hospital stay and greater healthcare costs.
Dysphagia screening is recommended to be performed on all patients admitted with acute stroke as soon as possible before starting oral foods, fluids, or medications. This can then help identify the risk of aspiration and guide the most appropriate feeding format. But many different protocols exist, which may lead to confusion about which screening method to use and who should perform it.
Aiming to support HCPs and stroke units by providing clearer guidance in this setting, Nutricia together with the Angels Initiative* have created the below dysphagia screening guidance tool [for healthcare professionals only] to help improve the identification and nutritional management of post-stroke dysphagia.
Download Screening Guidance Tool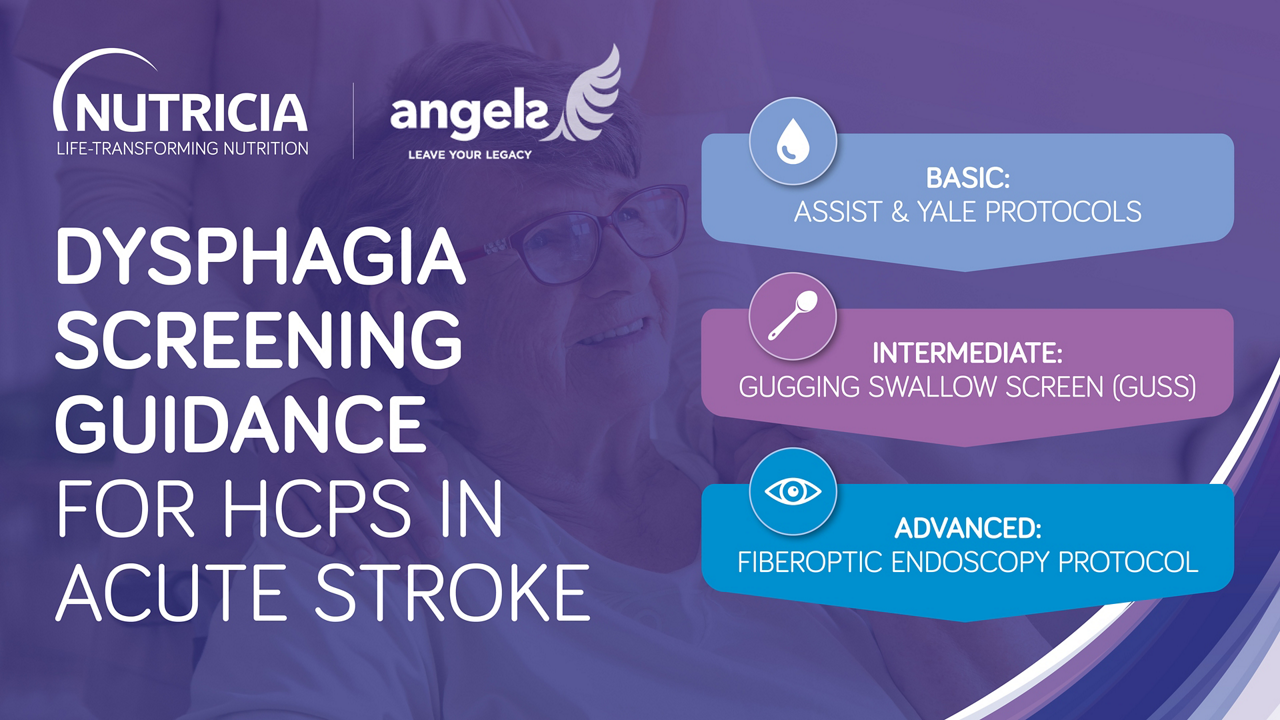 The tool captures some of the most common protocols used in this setting to identify aspiration risk, recommend the most appropriate feeding route (enteral or oral) and food/fluid consistency, as well as indicate the possible need for more in-depth assessment.
Once aspiration risk has been assessed, dietary adjustments can be made by changing the texture and consistency of food and drinks, making them easier to swallow, reducing the risk of accidental inhalation, serious lung infection and malnutrition. In cases of severe swallowing difficulty, patients will need to receive their nutrition enterally, such as via nasogastric tube. Nutricia offers a large range of medical nutrition solutions to support the management of disease-related malnutrition, including in dysphagia.
References
Felt, P. Nutritional management of dysphagia in the healthcare setting; Healthcare Caterers International. 2006;1: 11-43.
* The Angels Initiative is a non-promotional, healthcare project of Boehringer Ingelheim International GmbH to support the ESO and WSO in implementing their main goal: to improve stroke care around the world. Nutricia's support of the Angels Initiative aims to help healthcare professionals and stroke centres improve screening and nutritional management of dysphagia.