Protein substitute needs for patients with Phenylketonuria on BH4 treatment
For around fifty of the known inherited metabolic disorders, the management of these conditions is done through a lifelong commitment to a restricted diet1. In the example of the amino acid disorder Phenylketonuria (PKU), individuals cannot break down the amino acid phenylalanine. If left untreated, this may lead to irreversible brain damage2-4.
For certain patients with PKU, pharmaceutical treatment with synthetic tetrahydrobiopterin (BH4) may help them to relax their restricted diet5-8. While BH4 treatment can support normal growth, a decreased intake of protein substitute may cause deficiency of certain micronutrients9,10.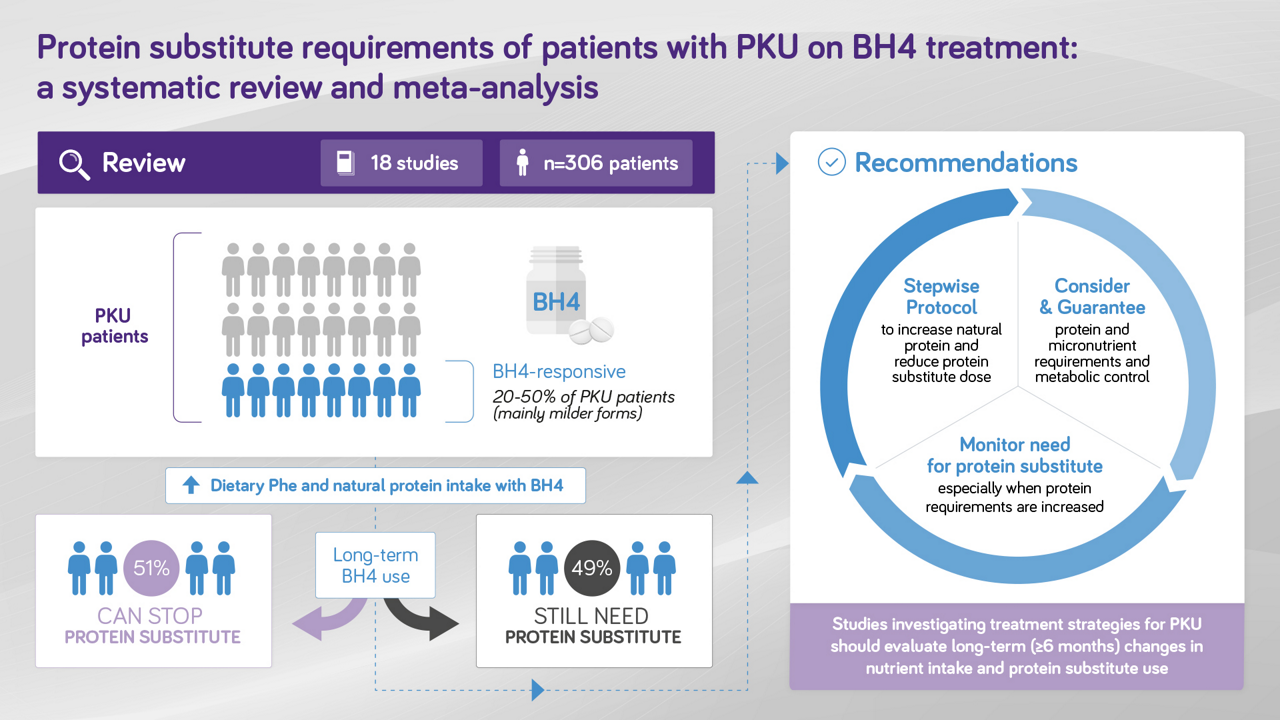 This new scientific research, along with many other exciting topics, will be presented at this year's International Congress of Inborn Errors of Metabolism (ICIEM).
Nutricia has developed a broad range of inherited metabolic disorder (IMD) products, supporting as many people with IMDs as possible across a variety of conditions, across the world. We use our unique nutritional expertise to develop high-quality products that help make the lives of patients and their families a little easier.
Learn more about Nutricia's presence at ICIEM and register now.
Click here
References
White, F.J. Inherited Metabolic Disorders. In Clinical Paediatric Dietetics, 2020, 502–512.
Blau, N.; van Spronsen, F.J.; Levy, H.L. Phenylketonuria. Lancet 2010, 376, 1417–1427.
Mitchell, J.J.; Trakadis, Y.J.; Scriver, C.R. Phenylalanine hydroxylase deficiency. Genet Med 2011, 13, 697–707.
van Wegberg, A.M.J.; MacDonald, A.; Ahring, K.; Belanger-Quintana, A.; Blau, N.; Bosch, A.M.; Burlina, A.; Campistol, J.; Feillet, F.; Gizewska, M., et al. The complete European guidelines on phenylketonuria: diagnosis and treatment. Orphanet J Rare Dis 2017, 12, 162.
Burton, B.K.; Grange, D.K.; Milanowski, A.; Vockley, G.; Feillet, F.; Crombez, E.A.; Abadie, V.; Harding, C.O.; Cederbaum, S.; Dobbelaere, D.; et al. The response of patients with phenylketonuria and elevated serum phenylalanine to treatment with oral sapropterin dihydrochloride (6R-tetrahydrobiopterin): A phase II, multicentre, open-label, screening study. J. Inherit. Metab. Dis. 2007, 30, 700–707.
Feldmann, R.; Wolfgart, E.; Weglage, J.; Rutsch, F. Sapropterin treatment does not enhance the health-related quality of life of patients with phenylketonuria and their parents. Acta Paediatr. 2017, 106, 953–959.
Hennermann, J.B.; Roloff, S.; Gebauer, C.; Vetter, B.; Von Arnim-Baas, A.; Mönch, E. Long-term treatment with tetrahydrobiopterin in phenylketonuria: Treatment strategies and prediction of long-term responders. Mol. Genet. Metab. 2012, 107, 294–301.
Trefz, F.K.; Burton, B.K.; Longo, N.; Casanova, M.M.-P.; Gruskin, D.J.; Dorenbaum, A.; Kakkis, E.D.; Crombez, E.A.; Grange, D.K.; Harmatz, P.; et al. Efficacy of Sapropterin Dihydrochloride in Increasing Phenylalanine Tolerance in Children with Phenylketonuria: A Phase III, Randomized, Double-Blind, Placebo-Controlled Study. J. Pediatr. 2009, 154, 700–707.e1.
Thiele, A.G.; Rohde, C.; Mütze, U.; Arelin, M.; Ceglarek, U.; Thiery, J.; Baerwald, C.; Kiess,W.; Beblo, S. The challenge of long-term tetrahydrobiopterin (BH4) therapy in phenylketonuria: Effects on metabolic control, nutritional habits and nutrient supply. Mol. Genet. Metab. Rep. 2015, 4, 62–67.
Thiele, A.G.; Weigel, J.F.; Ziesch, B.; Rohde, C.; Mütze, U.; Ceglarek, U.; Thiery, J.; Müller, A.S.; Kiess,W.; Beblo, S. Nutritional Changes and Micronutrient Supply in Patients with Phenylketonuria Under Therapy with Tetrahydrobiopterin (BH4). JIMD Rep. 2012, 9, 31–40.
Ilgaz, F.; Marsaux, C.; Pinto, A.; Singh, R.; Rohde, C.; Karabulut, E.; Gökmen‐Özel, H.; Kuhn, M.; Macdonald, A. Protein substitute requirements of patients with phenylketonuria on bh4 treatment: A systematic review and meta‐analysis. Nutrients 2021, 13.