The role of medical nutrition in recovery from severe illness - learnings from COVID-19
Nutrition support is an integral part of optimal patient care at every step towards recovery.
Discharge of a patient from ICU is a success and will come as a great relief. However, for many this is also the start of a long journey towards recovery. Physical and functional impairment resulting from extensive muscle loss can last for weeks or months1, and ensuring optimal recovery for all patients with COVID-19 is a major challenge to address. Experts and medical societies highlight the need to integrate ongoing nutritional support along the healthcare continuum, starting from the ICU and continuing after discharge from the hospital1,2.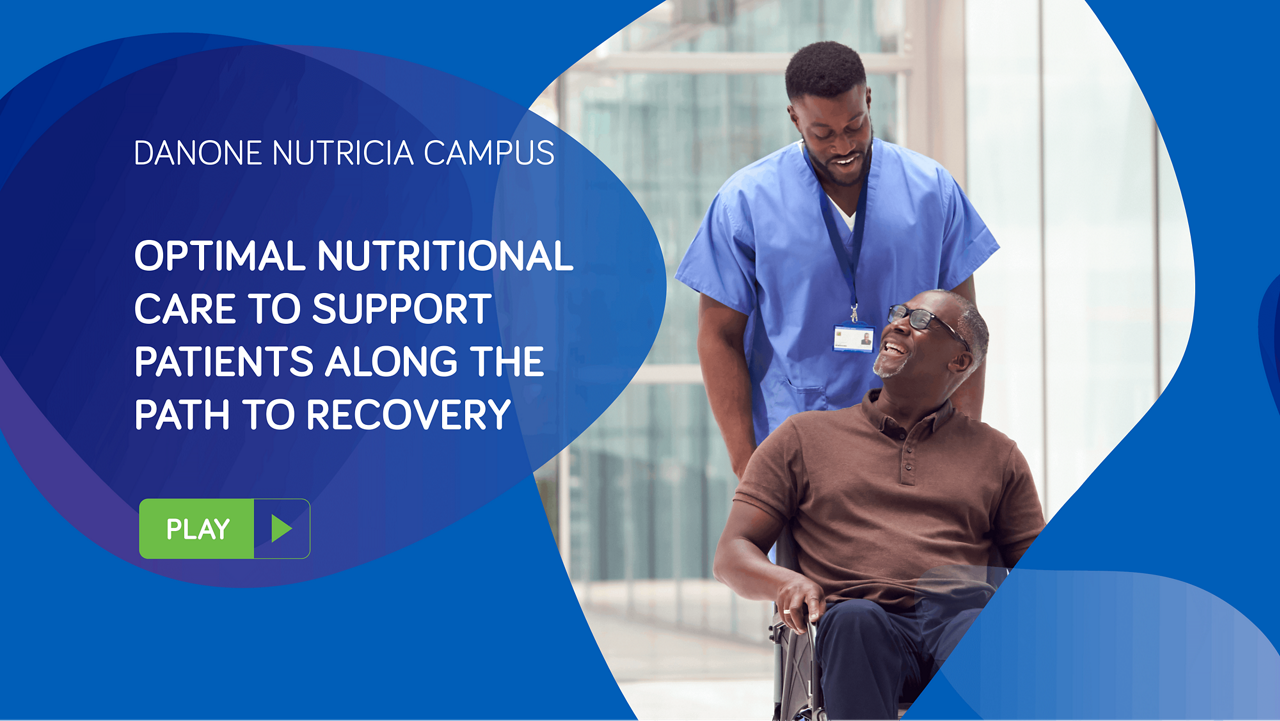 Optimal nutritional care
How to support recovery with the right nutritional management along the continuum of care - from the ICU to the ward, and during recovery after discharge from the hospital.
Watch Prof Paul Wischmeyer, Prof Artur van Zanten and Dr Anne Holdoway's webinar on Danone Nutricia Campus (for healthcare professionals only)
Watch full webinar
The NutriCOVer program supports research on nutrition and COVID-19 recovery
Real-world evidence on nutritional management in COVID-19 is needed optimize clinical practice and improve patient care. The NutriCOVer program was launched in May 2020 to support independent research on nutrition and COVID-19 recovery around the world.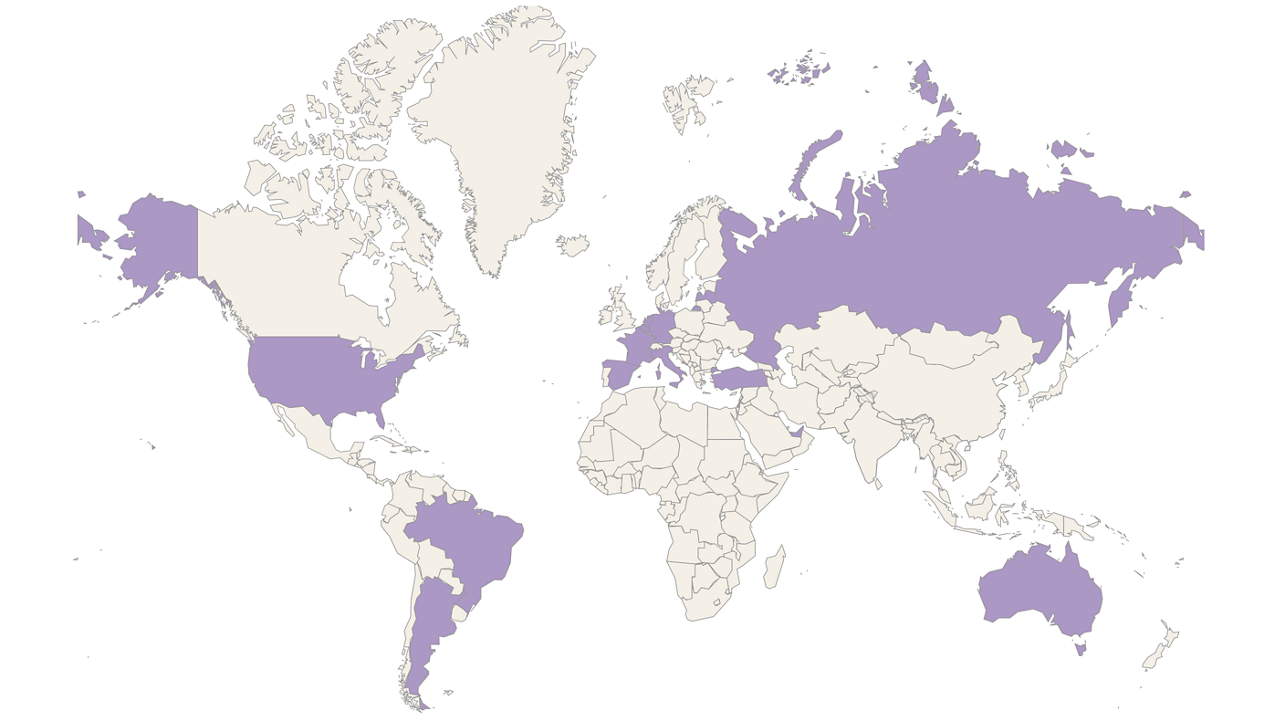 These initiatives aim to improve knowledge on nutritional needs during COVID-19 recovery after discharge and explore benefits of targeted nutritional interventions. These findings can contribute the evidence base for optimizing nutritional management in recovery from acute illness.
Learn more about the NutriCOVer program
New evidence on nutritional challenges and the role of medical nutrition in COVID‍-‍19 recovery

Findings from studies receiving support from the NutriCOVer program contributes to the growing evidence revealing a high burden of malnutrition in patients hospitalized with COVID-19 3,4,5.
Patients hospitalized with COVID-19 experience several challenges impacting nutritional intakes, such as loss of taste and smell, loss of appetite or fatigue4,5. In addition, 1 out of 2 patients suffered from oropharyngeal dysphagia3.
Up to 2 out of 3 patients developed malnutrition in the hospital in a national study in France, with a rapid weight loss of 6.5kg was observed4.
At discharge after COVID-19 infection, 3 out of 4 patients were at risk of sarcopenia, i.e. muscle loss5.

After discharge, patients require ongoing nutritional support including oral nutritional supplement (ONS) when needed to support them as they regain weight and strength, and progressively return to their usual appetite and weight 2-4.
ESPEN experts highlight the need to prevent, screen and manage malnutrition in COVID-19 patients2. Management strategies include oral nutritional supplements (ONS) for patients who are not able to meet their nutritional needs, in order to mitigate the negative impact of malnutrition and support recovery after the acute phase of the illness.
New COVID-19 data
A randomized controlled study in 185 patients in Russia explored the impact of medical nutrition on recovery outcomes in patients hospitalized with COVID-19. The trial investigated the effect of supporting nutritional status with Nutridrink (also known as Fortimel) oral nutritional supplement (ONS) in addition to regular diet.
The study results revealed that compared to patients receiving only standard hospital diet, the patients receiving medical nutrition as part of their care program:
Showed a significant improvement in muscle function (hand grip strength) at discharge compared to the measurement at inclusion in the study
Had significantly higher physical health scores measured within quality-of-life assessment
Had a shorter period of respiratory support during hospitalization (by 1.4 days) and a shorter hospital stay (by 3.3 days)
Full study results are available in video below.
Lead investigator Dr Kirill Krylov is associate professor of the Department of Intensive Care at the Pirogov Medical University in Moscow, Russia. Watch this video from the Nutricia Global Event in May 2021 where Dr Krylov provides more details on the trial.
A call for action for better nutrition therapy during recovery from severe illness
The COVID-19 pandemic cast a light on the role of nutrition during recovery. New research and learnings can be used to inform nutritional therapy protocols along the phases of recovery, and to support better integration of nutritional management in patient care. Watch an interactive session where international experts discuss learnings from the COVID-19 pandemic and reflect on opportunities to improve current practice.
Go to Danone Nutricia Campus (healthcare professionals only) and watch an interactive session in which international experts discuss learnings from the COVID-19 pandemic and reflect on opportunities to improve current practice.
Watch full session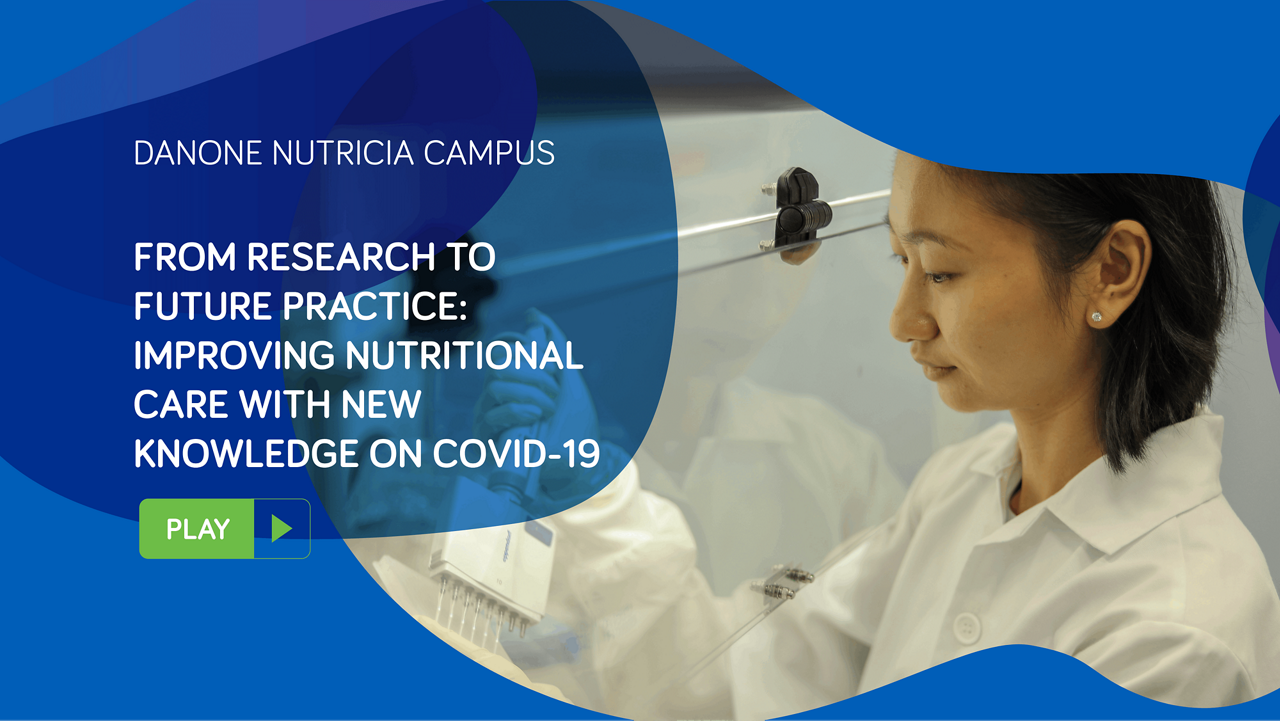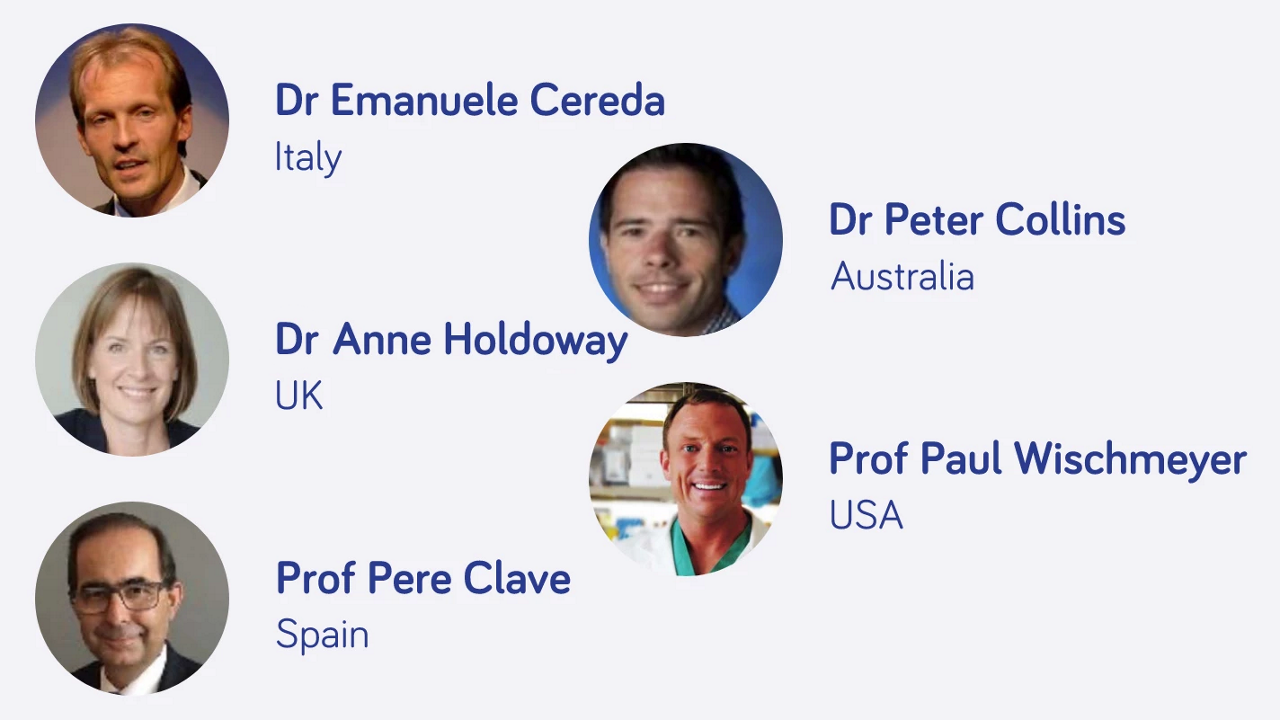 Recovery focused nutrional therapy across the continuum of care
A group of experts published a review paper emphasizing how healthcare professionals could take the learnings of the Covid-19 pandemic and apply more broadly by using an assertive, multi-modal nutrition support approach. Get access to the publication as well as a feeding decision tree to support patients.
Find out more

Join Danone Nutricia Campus
Learn more on recent evidence on nutrition for patients with COVID-19 during and after hospitalization on Danone Nutricia Campus.
Danone Nutricia Campus is an educational platform for healthcare professionals developed and hosted by a not-for-profit foundation co-led with external medical experts. The mission of the foundation is to advance the fields of nutrition through knowledge discovery, scientific insights and medical education for healthcare professionals.
Register here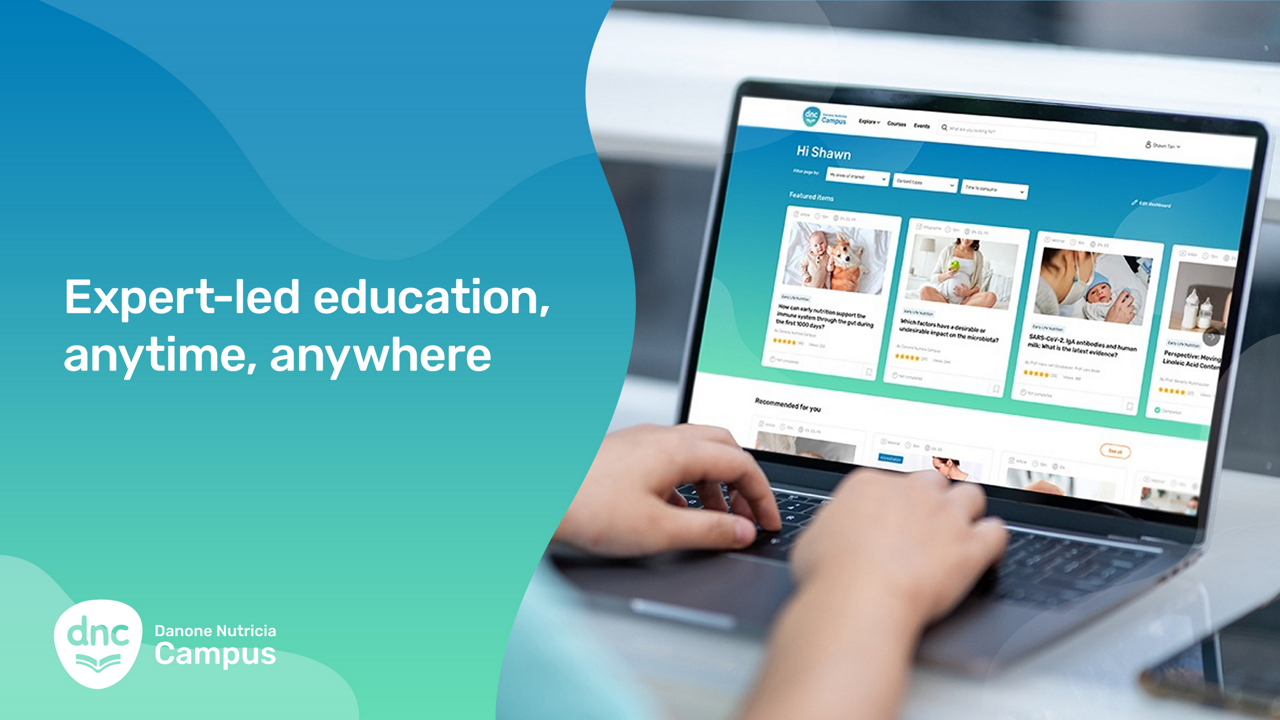 References
Merriweather, et al. J Clin Nurs. 2014;23:654-62
Barazzoni, et al. Clin Nutr. 2020;39:1631–1638
Martin Martinez, et al. Clin Nutr. 2021 https://doi.org/10.1016/j.clnu.2021.06.010
Pironi, et al. Clin Nutr. 2021; 40(3):1330-1337
Wierdsma, et al. Clin Nutr ESPEN. 2021;43:369-376
Belli, et al. Eur Respir J. 2020; 56:2002096
Holdoway, Br J Community Nurs. 2020;25:S6-S10
Barazzoni, et al.Clin Nutr. 2020; 39(6): 1631–1638
Sviridov,et al. Clinical nutrition and metabolism. 2020; 1:165–177. DOI: https://doi.org/10.17816/clinutr65103 (in Russian)